Maybe, just maybe, the kilometer-long rope can help.
Communal Rope
(2020 – 2021)
It all started a decade ago as an exhilarating yet laborious encounter between the very long stretch of thick black rope and two of us. For many years, wild, unpredictable movement of a rope provided an extended, precarious materiality to our performative and personal relationship. As it got stretched, coiled, knotted, in between and around our bodies rope became a mysterious expression of "that-which-transpire-between-us". It took us a decade to learn many lessons that the rope generously and tyrannically bestowed upon us. Lessons about an accident, discipline, labor, body, substance and process – of becoming together.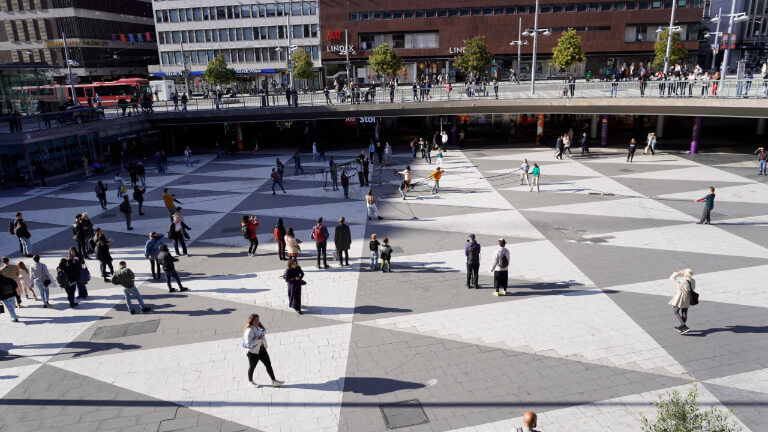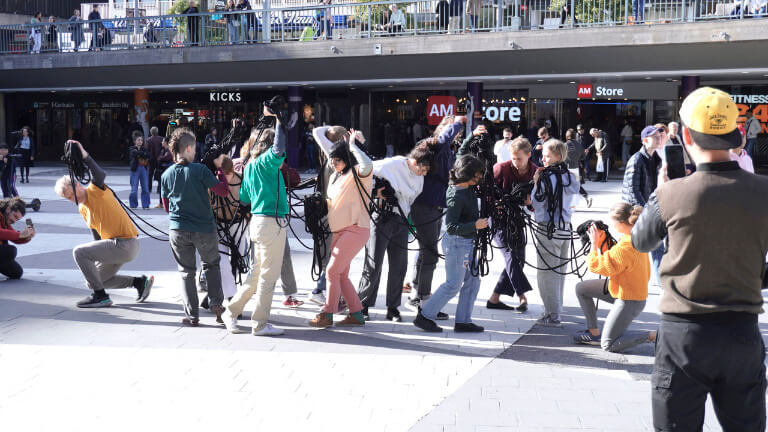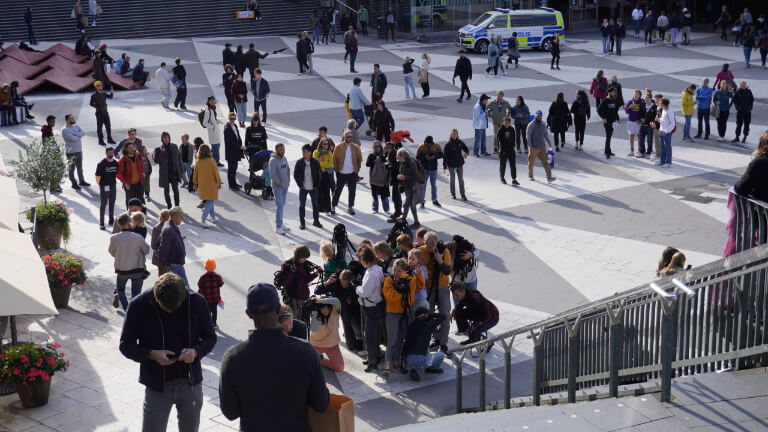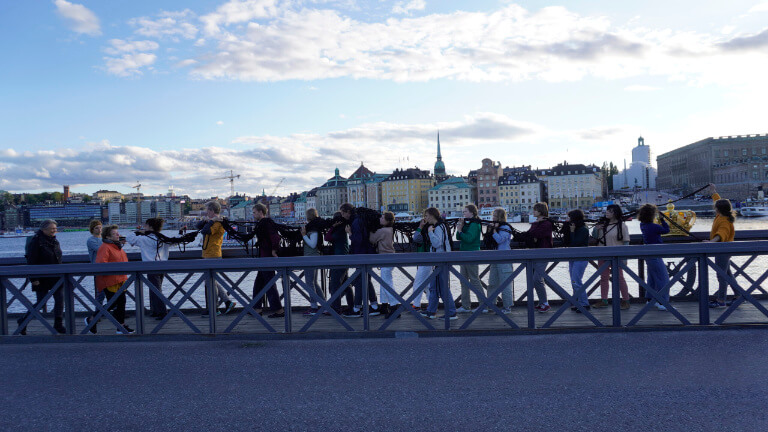 The time is coming to let go of the rope. Allow it to not just coil and knot in between two of us but rather extend, stretch and travel among others and across the landscape. Realign what till now kept staying fragmented: scattered points of possible relations in between many bodies and at least some public institutions that are of concern to us. What was till now our private affair existing in public only as a display to be witnessed, should transform witnesses into collaborators, should break out of the personal enclosures, unleash itself across the passages and along the architecture, offer itself to be fleetingly hosted by those territories whose aim is to gather yet are staying dispersed.
We have no illusions. This gesture can hardly change the collective situation we are all in. Yet it is maybe of some importance to make a gesture, which reminds us of this: trouble without a solution is still something that we can share. For a moment at least, we can celebrate encounters even when they are fleeting and unstable. For an instant, we can expand and acknowledge unresolved relations. Measure distances. (Re)distribute the labor.
We are not "optimistic" about the immediate consequences of this collective effort. But we are hopeful that to make such an effort, even when it is considered unreasonable or use-less, always leaves a trace. Trace of something improbable that, once inscribed in our memory will keep resonating. An unfulfilled promise that the shared work has the power to make us dream about the city not as a site of collective isolation but rather as a topography of an active compassionate co-existence that we have a right to claim as our shared home. Even if such a shared home is not yet built, this will not prevent us from desiring it into existence.
Maybe, just maybe, the kilometer-long rope can help.
Because, when the connections between the multiple separate points become the real purpose of stretching the rope, then the rope itself is ready to transform in its meaning and its purpose. The knot is getting undone yet entanglement is maintained, beyond the density of the material and toward the voids that are opening in between. In this transformation distance that was separating us is suddenly revealed as a web of intimate yet immaterial relations that are bringing us together, that are re-creating the time-space that we are sharing, social time-space which hold us and host us, in whose in-betweenness we are dwelling.
In her vision of the public domain, realm inside of which community thrive, Hanna Arendt is emphasizing the importance of distance (in perspectives, opinions, positions) between individuals. In that vision collective home is formed not only by social and cultural agreements but, more importantly, by the creation of the zone where free expression of our differences is truly nurtured. This zone is generous yet profoundly dynamic container of diversity, a fertile void that can hold us all, no matter what our identity or existential position is. In this zone problem of our disagreement (the knot) morphs into a promise of the solution for our creative coexistence (the home).
So, after many years of dealing with the problem of the rope as an unpredictable generator of knots, we finally came across the solution. If we pull the entanglement apart, if we expand it in such a way that instead of collapsing into each other we create a shared zone inside of which we can give ourselves enough space to take distance and still be together, we magically find ourselves inside of a container that holds us. What is this empty space suddenly un-knotting around us, this space so generously available yet mysteriously immaterial, strangely versatile and resilient yet forever provisional and on the move? For a time being, we are choosing to label it by the ancient Greek name for a space: Khôra. It is a term used by Plato to describe a realm beyond the boundaries of the city, transitional space where natural and artificial is forever entangled, where universal is in an endless process of becoming particular and where particular never loses its capacity to reveal itself as universal.
During 6 hours 20 of us will walk the rope through the streets of Stockholm, in between MDT – Dansens Hus – Weld. We will prepare our shared durational action in a series of workshops at Dansens Hus, Weld and during the symposium Hållning at MDT. Together with students from SKH we will form a group who would undertake this social choreography, a rhizomatic mapping. A video work will be created and live-streamed along the way. When the rope reaches its final destination it will be gathered in a pile and rest in an installation together with the video that was captured during the event, a resonance of the traces it left behind, where the present and past will get intertwined in remembrance of things yet to come.
The first part of Communal Rope (in times of crisis) was performed 05/09 2020 at MDT during My Wild Flag Festival with students from Stockholm University of the Arts. See the video documentation of the piece here: https://vimeo.com/quartoartistduo
Choreography & concept: Anna Mesquita & Leandro Zappala Dramaturg: Igor Dobričić Visuals: Pol Matthé Video: Lumination of Sweden & Mila Ercoli Production: QUARTO & Nordberg Movement Co-ordinator: Nina Øverli Participants: Irma von Platen, Bartira Fortes, Leah Landau, Robin Dingemans, Mariana Costa, Linn Ragnarsson, Viktoria Andersson, Britta Kiessling, Stella Kruusamägi, Dafne Giannikopoulou, Emma Kerttula, Laura Linna, David Anstey, Bartek Mikuta, Mira Jochimsen, Roula Argiri Samiotaki, Joanna Kerkelä, Philippa Tsai.
Co-production: Weld, MDT and Dansens Hus Stockholm.
In collaboration with Stockholms konstnärliga högskola, SKH.
With support from Kulturrådet, Stockholms Stad & Region Stockholm.